Rent a jeep with rooftop tent at your three weeks stay in Uganda. The good conditions of this jeep enable you reach all parts of Uganda at your own choice. The jeep can go to all national parks of Uganda as well as moving for three weeks nonstop without disturbance.
You can decide to start your journey from Bwindi Forest National Park for the ultimate gorilla experience, Queen Elizabeth National Park for a medley of wonders Rwenzori mountains for the mystical challenge, Kibale Forest National Park for chimpanzee tracking, Murchison Falls National Park for the most powerful waterfall, Mt. Elgon National Park for the largest mountain caldera and then wind up your trip at river Nile in Jinja.
Safari jeeps with open roof enable you during the game viewing in the wilderness of Uganda but still if you are traveling with the rooftop tent especially the Land Cruiser Prado with wide windows you can easily spot all the wildlife, birds and the undulating landscapes.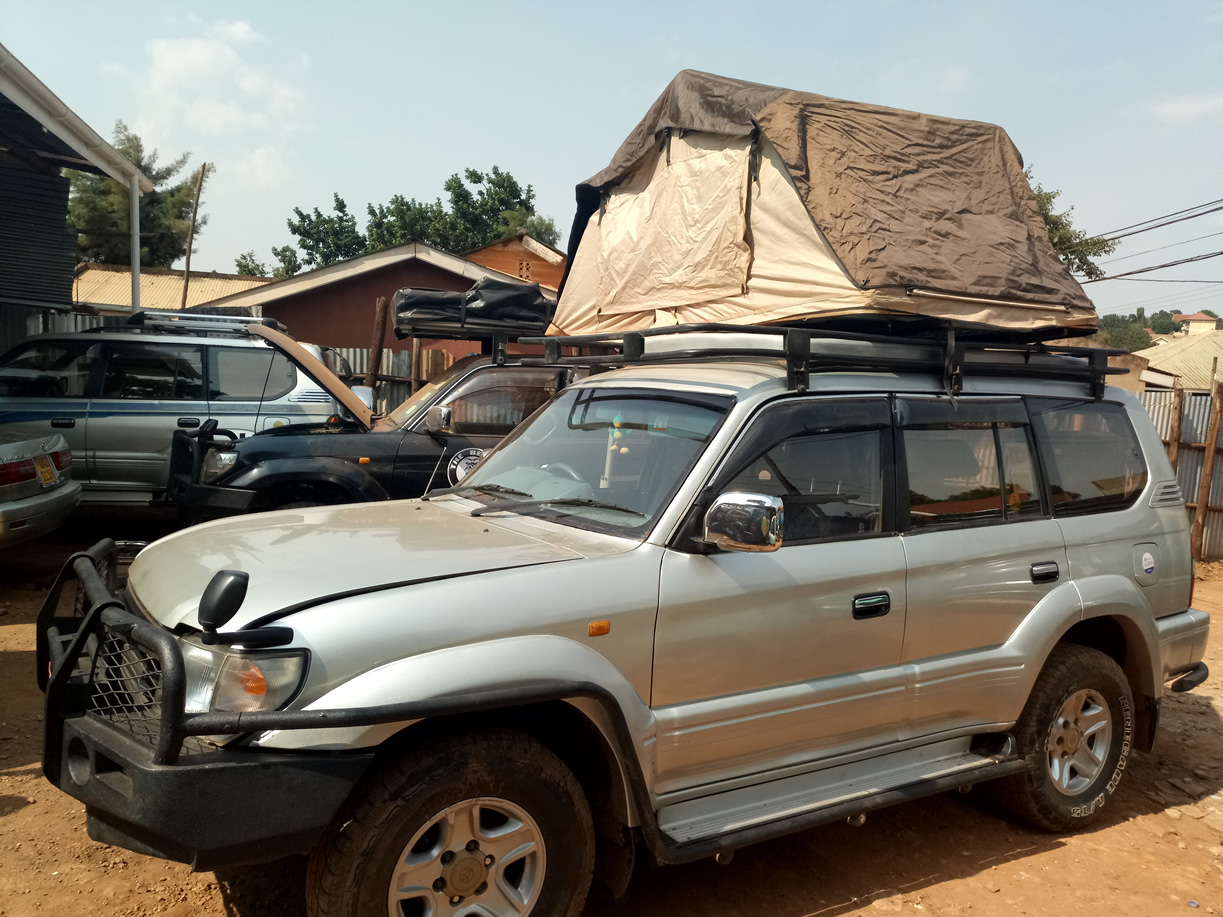 If you are planning affordable safari loop in Uganda book a rooftop tent car that saves a lot as you pay less for such a vehicle compared to what you would have spent on the highly priced accommodations, become your own chef as well sitting in the wilderness where you only neighbor is the flora and fauna.
Unlike other ground tents that you have to put up whereby you might end up losing some of the Important gadgets for this kind of tent like the pegs and guy lines whereas with a roof tent you just pull up, take off the cover, open your tent and extend the ladder and then everything is done and you are completely off the ground. So, there's no need to move any sticks or stones. Once you've set up a tent once or twice, you should be able to park, and be ready to sleep in minutes. Plus, you can leave those sleeping bags in there when it's time to pack up.
Roof top tents have a thick foam mattress built in that keeps you warm and comfortable. The entire floor of the tent is foam too, so you can roll around all over without any problem.
In terms of security, there is nothing as secure as a roof top tent. This is because no animal can climb up there the roof 5-7 ft to harm you in any way. Roof top tents are also more weatherproof. The rain, wind, snow, or whatever kind of precipitation won't be reaching you easily and when the rain does start raining, don't worry about bailing water out of your sinking tent as this can never happen.
Roof top tent provides you with enough space since all the storage space in your vehicle that you would have used for the storage of sleeping bags and mattress is now free as they are stored up in the roof tent.