Welcome to Queen Elizabeth National Park, Uganda – Top Tourist Things to See & Do in the Park – Game Drive & Boat Cruise, Tree Climbing Lions & Uganda Safari.
Queen Elizabeth National Park is in southwest Uganda. Leopards roam the Mweya Peninsula, which lies beside Lake Edward. Nearby Lake Katwe is a huge volcanic explosion crater.
Boats on the Kazinga Channel float past hippos and Nile crocodiles. Chimpanzees inhabit the Kyambura Gorge. Trails lead to bat caves in the central Maramagambo Forest. The Ishasha area is home to tree climbing lions and shoe bill storks.
Queen Elizabeth National Park Uganda is home to 95 mammal species while the bird list is 612 species. Queen Elizabeth National Park offers diverse ecosystems, home to tree climbing, leopards, buffaloes, lions, and a school of Elephants.
Uganda's Queen Elizabeth National Park is truly a Medley of Wonders! Situated in Kasese District of Uganda, this Uganda safari park has various ecosystems made up of sprawling savannah, shadowy, moist forests, lakes and fertile wetlands, which makes it a good home to various species of wildlife, primates and birds.
Queen Elizabeth National Park lies against the back of the great Rwenzori Mountains with stunning and panoramic views that are made up of various crater lakes.
These lakes are carved dramatically into the green rolling hills. When you visit, you will reward yourself with magical sights of the Kazinga Channel. This channel's shores are infested with hippopotamuses, elephants and buffaloes.
You will also see the Savannah plains of Ishasha, whose fig trees obscure tree climbing lions that are ever ready to knock on herds of the famous Ugandan Kob.
Just like the sights and attractions, Queen Elizabeth National Park Uganda does have a rich cultural background too.
There are many scenarios and opportunities for tourists to meet up with the local communities and be part of amazing cultural activities like traditional dances, storytelling moments, listening to traditional music and more. You can further engage in community projects and leave footprints behind.
Named after Queen Elizabeth II, this park was previously named Kazinga National Park. The gazetting of Queen Elizabeth National Park has long ensured the conservation of its ecosystems for decades, which in turn benefits the surrounding communities.
Some of the activities to carry out in this popular national park include wildlife viewing (primary activity) in Kasenyi, Mweya and Ishasha sectors, Chimpanzee trekking in the exhilarating Kyambura Gorge, Kalinzu forest or Maramagambo forest, Hot air ballooning and local community visits.
Other interesting activities include hiking and nature walks, bird watching, launch cruises on the Kazinga Channel, lion tracking, a visit to the explosion crater and a visit to the Katwe salt works.
Tourists can visit Queen Elizabeth NP at any time of the year but the best experiences are got during the months of June to September and December to January respectively.
This wildlife park is not only among the best wildlife viewing destinations, but is also Uganda's most popular tourist destination.
While on your visit to Uganda for the gorilla trekking tours in Bwindi Forest National Park or Mgahinga Gorilla National Park, endeavour to add a visit to this lovely park as they are not so far away from each other.
It's also easier to connect to Queen Elizabeth National Park though the famous Ishasha sector for the tree climbing lions and then to the Mweya Peninsula where you can experience the boat cruise along the Kazinga channel that connects Lake George to Lake Edward.
This park has much more to offer like the Chimpanzee walks in the undulating Kyambura gorge, Kalinzu forest and then to Kibale Forest National Park just in case you want to try out its amazing Chimpanzee trekking and the great habituation experience.
Accommodation – Top Lodges in Queen Elizabeth National Park
Mweya Safari Lodge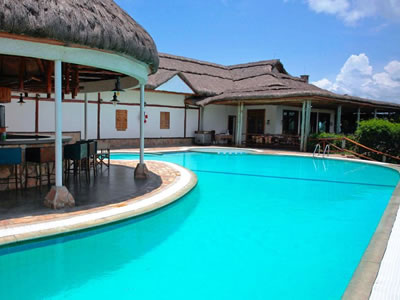 Located on a peninsula overlooking the Kazinga Channel on one side and the Rwenzori Mountains on the other, this recently renovated lodge provides some of the best accommodation and service facilities in Uganda.
Kyambura Game Lodge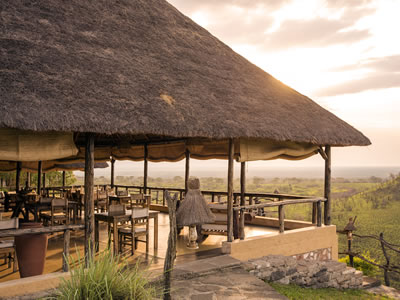 This lodge, located in the western part of the Rift Valley, boasts fantastic views of Queen Elizabeth National Park and the Rwenzori Mountains.
Savannah Resort Hotel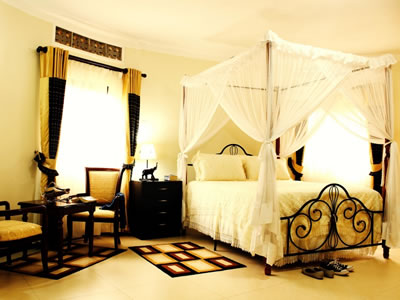 This hotel is located in Kanungu district, not far from the Ishasha Sector of Queen Elizabeth National Park and may be a stopover when travelling to or from Bwindi National Park.